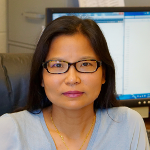 Xin Dang
Associate Professor
Ph.D., University of Texas at Dallas, 2005 
Hume Hall 315
(662) 915-7409 | xdang@olemiss.edu
Personal Website
TEACHING, Spring 2017
Office Hours: M.W. 8:30-11:00 AM
Math 115-01H: T.Th. 9:30-10:45 AM, Hume 221
Math 480: T.Th. 8:00-9:15 AM, Hume 331
Math 776: T.Th. 1:00-2:15 PM, Hume 331
RESEARCH INTERESTS
Statistics, especially Nonparametric and Robust Multivariate Analysis
Data Mining, Outlier Identification and Cluster Analysis
Applications of Depth Functions
Correlated Data Analysis
SELECTED PUBLICATIONS
Y. Sang, X. Dang and H. Sang, Symmetric Gini Covariance and Correlation, Can. J. Stat. 44 (2016), no.3, 323-342.
K. Yu, X. Dang, H. Bart and Y. Chen, Robust model-based learning via spatial-EM algorithm, IEEE Trans. Knowl. Data Eng. 27 (2015), no. 6, 1670-1682.
W. Xu, Z. Xiao and X. Dang, Financial ratio selection for business failure prediction using soft set theory, Knowl. Based Syst. 63 (2014), 59-67.
F. Teng, Y. Chen and X. Dang, Multiclass classification with potential function rules: margin distribution and generalization, Pattern Recog. 45 (2012), no. 1, 540-551.
X. Dang, R. Serfling, Nonparametric depth-based multivariate outlier identifiers, and masking robustness properties, J. Statist. Plann. Inference 140 (2010), 198-213.
X. Dand, W. Zhou, Projection based scatter depth functions and associated scatter estimators, J. Multivariate Anal. 101 (2010), no. 1, 138-153.
X. Dang, C. Gao, Y. Chen, D. Wilkins, Graph ranking for exploratory gene data analysis, BMC Bioinformatics 10 (Suppl 11): S19 (2009).
X. Dang, H. Peng, S. Keeton, A unified approach for analyzing exchangeable binary data with applications to developmental toxicity studies, Statistics in Medicine 28 (2009), 2580-2604.
X. Dang, R. Serfling, W. Zhou, Influence functions of some depth functions, with application to L-Statistics, J. Nonparametr. Statist. 21 (2009), no. 1, 49-66.
Y. Chen, X. Dang, H. Peng, H. Bart, Outlier detection with the kernelized spatial depth function, IEEE Trans. Pattern Anal. Mach. Intell. 31 (2009), no. 2, 288-305.