Josephine Howard
(BA mathematics '64, McS mathematics '67)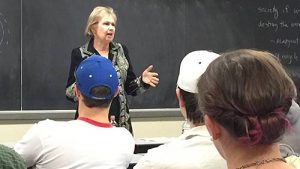 Howard, a veteran scientist, helped the National Aeronautics and Space Administration (NASA) achieve one of the crowning achievements of the 20th century, putting Apollo 11 on the moon in 1969. In one of her first jobs after graduation, she developed the design trajectory to guide a spaceship through the Earth and moon's orbits for the first lunar landing.
Howard has worn many hats throughout her career beyond NASA, including programming data management programs for oil and gas companies, writing control language for data management systems, and organizing and implementing successful political campaigns for 18 years. She taught junior high and high school, operated her own real estate company in Sugar Land, Texas, and helped found Living Water International, an organization that helps provide clean water in 26 countries.
She encourages students to understand that problems, just as in mathematics, will always be present, but they should look past their assumptions when solving them. She challenges students to revisit their assumptions and evaluate choices from other angles.
"Whatever you do in life, whatever you think, your choices are based on your assumptions," Howard said. "On all your choices, go back and check your assumptions; if your assumptions are wrong, you may discover you are way off base."
She encourages a strong liberal arts education where students should branch out of their subjects and learn as much as possible for the value that knowledge will have in their long-term careers.