Adrian Wilson Cartier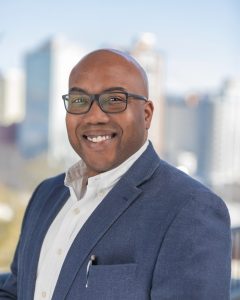 Chief Data Science Officer, Freight Science and Data Science Advisor, Ocelot Consulting

PhD mathematics (2006)
LinkedIn
Dr. Cartier is an expert in data science, with a career that has included mathematics faculty at the University of Montevallo, Founder and Principal of WEC Analytics Group, Geospatial Analytics Lead at Monsanto, Data Science and Engineering Director at Bayer, Assistant VP of Data Science at Enterprise Holdings, and now Data Science Advisor at Ocelot Consulting as well as Chief Data Science Officer for Freight Science. Ocelot Consulting is a St. Louis-based technology consulting firm specializing in cloud technologies, enterprise security, application development, and data science.
Why did you major in mathematics?
As many students do, I entered university choosing my major based on what I thought my parents and society wanted. I started as a pre-med chemistry and biology major with a minor in mathematics. While I had the aptitude and requisite knowledge gained from my high school (MSMS), deep down that wasn't my true passion.
I've loved mathematics from a young age. Relating numbers to the world is something that I always found beautiful, but I didn't think of it as an occupation or career. My decision to ultimately major in mathematics was from the guidance of my parents. They told me to pursue things that brings me happiness.
At Ole Miss I looked at mathematics as filler courses—something fun to do; like 3 hours of brain teasers (I love those by the way!!!). I knew taking math courses could keep my grades up. It wasn't until senior year that Professor James Reid (Math 555/556) made me ask the tough questions of myself. It was he who suggested I pursue mathematics as the focus of my life. I am glad that he did.
Fond memories of UM?
The Grove, football games, fraternity parties, late-night cramming sessions for exams (and PhD qualifiers)—I will always remember. My college roommates and I get together once a year and reminisce about our times at Ole Miss. I try to visit the Grove and math department whenever I can.
I will never forget finishing my PhD in 2006 and being asked to give a speech on diversity at the 2007 graduate hooding ceremony. Fellow students Carla Cotwright (Williams), Bryan Williams, Joe Anderson, and I made history by being a part of the largest number of African American PhDs to graduate in mathematics at one time. As a result, I was asked to speak about the importance of diversity in academics and society as a whole.
Describe your professional journey since graduation.
Prior to my industry work, I held a tenure-track position as a mathematics professor at the University of Montevallo and operated my own analytics consulting firm.
Since graduating Ole Miss (you never leave you just graduate), I have had an amazing journey ranging from building mathematical models in agriculture and leading data science and engineering teams to being awarded the prestigious science fellow distinction at my company. I have had the privilege of being recognized nationally as an invited speaker at data science conferences and receiving national awards for my teams' work my teams. These days, in my spare time I am a guest lecturer at Washington University in Saint Louis' data science graduate program.
What is the value of studying mathematics at UM?
The advantage of studying at Ole Miss is the close relationships with faculty and peers. Often, at large universities, you are just a number amongst a sea of other students. At Ole Miss, you have the opportunity to develop personalized relationships with the teachers and the content which makes for a more intimate experience with mathematics. I use experience purposefully. Mathematics is not meant to be done but rather experienced. Through that experience, you will gain a deeper understanding of the world around you and quite possibly yourself, too.