Mathematics Student Ambassadors
| | |
| --- | --- |
| | |
Harrison Grimes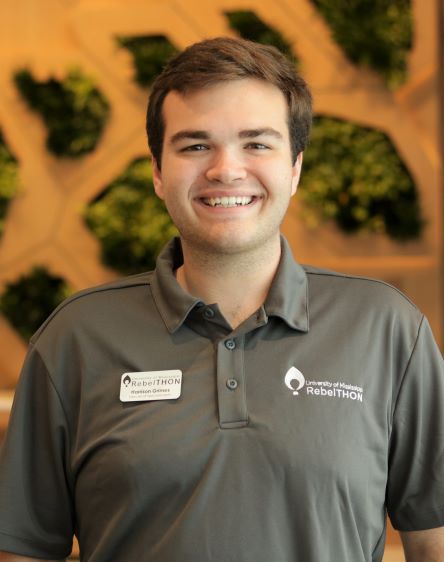 Harrison Grimes
Harrison has used his math and leadership skills as a volunteer for organizations integral to campus life, including the Student Activities Association and the Associated Student Body for which he's a senator. He is a recipient of the William T. Trusty Mathematical Award.
Why did you decide to study math?
I actually never really enjoyed math until my senior year of high school, when I took calculus for the first time. That class helped me start to see how all of the things I'd learned throughout middle and high school could fit together to give me the ability to solve really interesting problems. When I was picking my major, I was drawn to math because of the problem solving and critical thinking aspects of the discipline. I think of the foundational math skills learned early on as a "toolbox" that enables me to look at more and more complex problems as I progress through my coursework. I also am minoring in public policy leadership and economics.
Career goals?
My current plan is to work as an actuary. I didn't know exactly what I wanted to do when I started college, just that I wanted to do something that would challenge me and allow me to continue using the skills I've developed as a math major here at the University. I heard about this field through a class that I took in high school and have been interested in it since then, but it wasn't until I got to college that I started to look into what the career entails and the path to becoming an actuary.
Why should someone decide to study math at the University of Mississippi?
Math is an awesome major because of the way the skills learned in the math department can be applied to so many different areas. I am minoring in Economics and Public Policy Leadership, and the skills I've learned in my math classes have helped lend a deeper understanding to the things I'm learning in my other classes. I also really enjoy the problem-solving aspect of it. Math is a challenging major, but it's challenging in the best way possible and I've learned so much from the classes I've taken. I definitely recommend a math major for anyone who enjoys solving problems, thinking logically, and being challenged.
Have you had an experience at UM that made you feel empowered or gave you a leadership opportunity?
I've been really lucky to have several opportunities to get involved on campus. One of the roles that has had a big impact on my decision to pursue a career as an actuary has been being the Vice President of Finance for RebelTHON this year. I had never done any finance-related activities prior to taking on that role, but it has allowed me to work with numbers to maximize our fundraising efforts while also getting to form relationships with the other members of the organization and give to a fantastic cause, the children's hospital in Jackson. I also love the way that role as well as several others on campus have given me so many opportunities to meet new people and really make Ole Miss home.
Any particular support or encouragement you have received from a professor?
I've had great experiences with all of my professors at the University. They have always been very supportive and encouraging and it's easy to see that they have a genuine desire to see students succeed.
What is an especially memorable trip, research, internship, or other school-related activity you've done?
I'm a member of the Honors College, and one of the most memorable experiences I've had in my college career so far has been going on the Freshman Ventures trip in my first year. We got a pretty random group of people together who didn't know each other super well at the time and planned a trip to D.C. to interview policymakers, lobbyists, and immigrants about immigration policy. That experience was great because it gave me the chance to get out in the real world to gain knowledge about a topic that didn't necessarily pertain to my major. I also made some great friends who I still am close with now.
What are you binge watching?
I finished binge watching This Is Us pretty recently and still haven't recovered emotionally enough to start anything else.
What is your go-to meal in Oxford?
I'm a big fan of Volta. My go-to is to start off with Hotty Toddy balls and then the lamb and beef gyro with fries, but the chicken tender wrap is a close second.
What do you enjoy doing outside of academic pursuits at UM?
My involvement on campus has contributed so much to my experience here! I currently serve as an Ambassador with the admissions office, the Vice President of Finance for RebelTHON, and one of the Co-Directors of Special Events for the Student Activities Association. Outside of my on-campus involvement, I enjoy hanging out with my friends, going to concerts (but RIP to that – thanks coronavirus!), listening to Taylor Swift on Spotify, and watching movies or TV shows.
Darian Raucher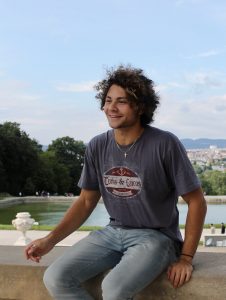 Darian Raucher
Darian – biochemistry and math double major – works as an operating-room anesthesia technician and has shadowed doctors in a rural and underserved area of Mississippi. He volunteers for the Jackson Community COVID-19 response team, where he assembles and delivers food release packages in the Jackson metro area as well as operating a registration hotline to enroll new recipients.
Why did you decide to study biochemistry and math at UM?
I have always had a keen interest in science and math, so I decided right from my matriculation that I would major in biochemistry and minor in math. However, I realized that the minor alone wouldn't satisfy my passion for math so I decided to add it as a second major later on.
Science is perhaps the best explanatory tool we have available to us. There are so many things in our daily lives that are explained by science, and there's no way of knowing yourself better than by understanding what happens physiologically at the cellular level. I love math because it has structure—there is always one answer and there are clear-cut rules. In a way, math is much simpler than real life. If you share this belief, math might be the right major for you.
Career goals?
I want to be a physician. I am not sure what area of medicine I want to practice yet, but I am keeping an open mind and I know that it will become apparent to me during medical school.
Have you had an experience at UM that made you feel empowered or gave you a leadership opportunity?
While taking organic chemistry, I realized that there was a sense of community among the class as getting through the seemingly infamous course seemed like a group effort. The competitive environment created by the class inspired me to want to be the Supplemental Instruction (SI) Leader for the course, so the following year I applied and was accepted. As the SI Leader, I was able to help dozens of students with each SI session by creating practice problems and instructional activities for the course. I realized I had to independently create every problem I presented, forcing myself to undergo the same thought process that a student would in learning the material. Serving as the SI Leader for Organic Chemistry proved to be, by far, my most time intensive, difficult, and rewarding academic experience, and I felt I had directly contributed to the empowerment and success of my peers.
What is an especially memorable trip, research, internship, or other school-related activity you've done?
I was lucky enough to get the opportunity to serve as a research assistant for a conservation biology thesis concerning an endangered species of turtle native only to the Pearl River system. I acquired a boating license to assist with the project where I gathered observational data and learned how to draw blood samples to be inspected for parasite content.
Any particular support or encouragement you have received from a professor?
At the end of the last day of class for Discrete Math, I asked my professor a question about a topic that would be on the final exam. After he answered my question, he spontaneously mentioned that I should consider a major in math. At the time, I had just started the minor, and it was quite encouraging to hear those words unexpectedly.
What are you binge watching?
Complex's Sneaker Shopping series on Youtube.
What is your go-to meal in Oxford?
Caniac from Canes. Substitute the slaw for an extra toast. What do you enjoy doing outside of academic pursuits at UM? I've always had a passion for exercising, and it does more for my mental state than just maintaining myself physically. I love the new addition of the South Campus Recreation Center, but since the pandemic happened, I've had a newfound passion for running.